Kindermasken Parade at Folkfest 2022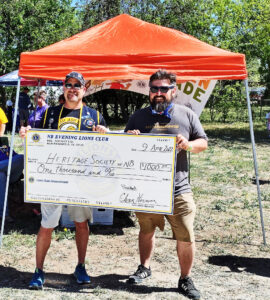 1st VP Clint Herman present our donation to Justin Ball, executive director of the Heritage Society of New Braunfels.   We also provided bags of goodies to each child participating in the parade.
Our group of Lions that helped with the parade on Saturday morning, 9 April 2022.
The parade starts with Alex Meixner, grand marshal, leading the parade as he plays his accordion.
Boy Scouts from Troop 119 bear the flags at the front of the parade.
The parade begins.
Camels also marched, trailing the children.
And the parade continued with a second march around the Folkfest grounds.