Club Organization
Chartered 31 May 1967 as the 900th club in Texas      LCI club ID 1578
  Part of Multiple District MD-2 (Texas), District 2-S3, Region 5, Zone A
Sponsored by the New Braunfels Lions Club, also now known as the New Braunfels Noon Lions Club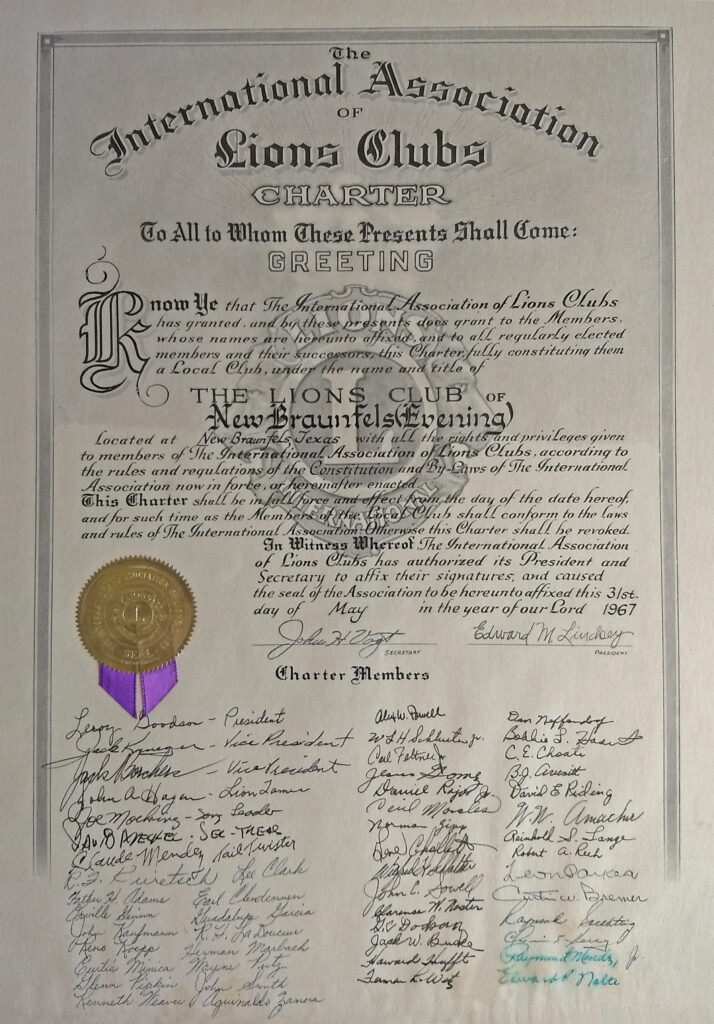 Membership
51 charter members in 1967
More than 80 in 1975
37 members in fiscal year 2021-22, our 55th year, including
1 charter member                   50+ yrs    1 member            40+ yrs   2 members
30+ yrs    2 members              20+ yrs   8 members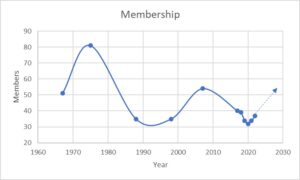 Over the years our membership has included a Council Chair, 2 District Governors, and many members who have been active at the district cabinet level.
Leo Club at Smithson Valley High School
Sponsor, Chartered August 8th 2016                                 LeoCharter_letter
Fund Raising
Dances
 Early years  July 4th in Landa Park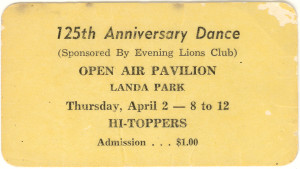 April 2, 1970, as part of the 125 anniversary of the founding of New Braunfels
Sale of Zip Code Directories
Door to door sale of Halloween candy
Sale of coloring books outside of grocery stores, Walmart, Target
Aluminum can drive
Food booths
 Fair Grounds during spring and summer Dutchman Downs horse races
  Glow Fest (hot air balloon festival)
  Weihnachts Markt
  New Braunfels Air Expo
Comal County Fair Food Booth 1969 – 2016
Wine on the River  ca 2010   for several years
  Saturday afternoon event at the Rockin R grounds
  Food samples by local restaurants
  Samples of wines
  Commemorative wine glasses
  Live music
Sale of tickets supported the Volunteers in Medicine clinic in New Braunfels
Wurstfest     Food Booth       since 1970
Fried Oreos established 1999
NB Car Club Swap Meet   Food Booth        2017, 2018, 2019
Service Projects
Including
Little League Field including dugouts and concessions building on Common St.
Eikel Park development in 1972
First defibrillator for the McKenna Memorial Hospital
First Jaws of Life for the Fire Department
Bus for MHMR and maintained it
Equipment for Green Dolphins swim club
Decks at pavilions 5 and 16 and the band stand shell at Landa Park
Deck at St. Judes Childrens Ranch
Trash receptacles at the plaza
Benches and picnic tables for local schools
Picnic pavilion expansion at Eden Home
Butterfly garden at Eden Hill
Porch, deck, stairs, fencing for a physically challenged lady
Cabanas for the tennis courts at NBHS
Started the McGruff program
Cleared a large fallen tree and yard maintenance for an elderly resident
Assisted in the vision and hearing screening at local elementary schools
Sponsor, prizes for Kindermasken Parade
Gazebos at Crisis Center of Comal County, Eden Hill, New Life Childrens Center, Connections, Humane Society, Bulverde Community Garden Center, New Braunfels Heritage Society
Projects for New Braunfels Parks
Decks at pavilions 5 and 16
Back sound wall for the band stage
Pergola at the miniature golf course
Donation for Puppy Playland park
Texas Lions Camp
We have also supported the Texas Lions Camp with work day projects and provide scholarships for Camp Counselors (Awards Night).
Some of the hands-on projects include
2 computer desks
Storage cabinet and chuck boxes at various campsites
Benches
Paneling in the gym
Installation of a rollup exterior door for a storage unit
Exterior painting of camper bunk houses
Protective stain on the Lions fountain
We provided funds for the purchase of 110 camp cots.
This is our 42nd consecutive year for 100% financial contributions (dues) to Texas Lions Camp.
Grants and Donations including
Residents needing financial assistance for eye exams and eye glasses
Boys and Girls State
Boy Scouts
Fair Queen and Rodeo Queen
Jr. Miss
Junior Livestock show, Youth Homemaking and Art Fair
Crisis Center of Comal County
Family Life Center
SOS Food Bank
Habitat for Humanity – Point of sale system for ReStore
NB Little League
NB Heritage Society
Volunteers in Medicine New Braunfels
Debate club at SVHS – scholarships
Disaster relief
Charter Night         26 June 1967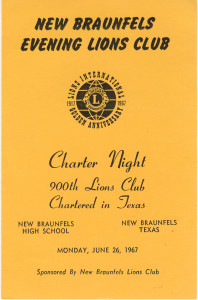 Letter in 1970 time capsule
1970_time_capsule_letter_and_envelope
40th Year Celebration
50th Year Celebration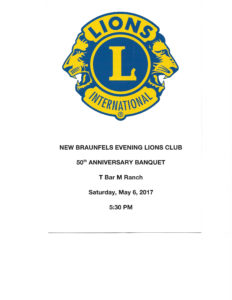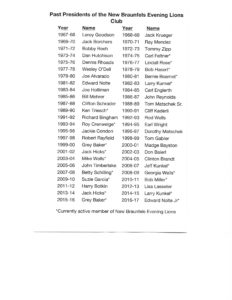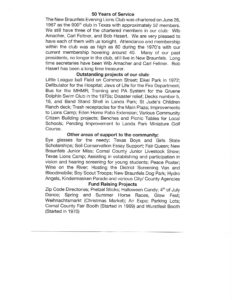 Presidents of the New Braunfels Evening Lions Club
Year                                       Name
1967-68                                Leroy Goodson
1968-69                                Jack Krueger
1969-70                                Jack Borchers
1970-71                                Ray Mendez
1971-72                                Bobby Reeh
1972-73                                Tommy Zipp
1973-74                                Dan Hutchison
1974-75                                Carl Feltner
1975-76                                Dennis Rhoads
1976-77                                Lindall Rose
1977-78                                Wesley O'Dell
1978-79                                Bob Hasert
1979-80                                Joe Alvarado
1980-81                                Bernie Boarnet
1981-82                                Edward Nolte
1982-83                                Larry Kunkel
1983-84                                Joe Holliman
1984-85                                Carl Englerth
1985-86                                Bill Mehrer
1986-87                               John Reynolds
1987-88                                Clifton Schrader
1988-89                                Tom Matschek Sr.
1991-92                                Richard Bingham
1992-93                                Rod Wells
1993-94                                Roy Crenwelge
1994-95                                Earl Wright
1995-96                                Jackie Condon
1996-97                                Dorothy Matschek
1997-98                                Robert Rayfield
1998-99                                Tom Gabler
1999-00                                Grey Baker
2000-01                                Madge Bayston
2001-02                                Jack Hicks
2002-03                                Don Baierl
2003-04                                Mike Wells
2004-05                                Clinton Brandt
2005-06                                John Timberlake
2006-07                                Jeff Kunkel
2007-08                                Betty Schilling
2008-09                                Georgia Wells
2009-10                                Suzie Garcia
2010-11                                Bob Miller
2011-12                                Harry Botkin
2012-13                                Lisa Lasseter
2013-14                                Jack Hicks
2014-15                                Larry Kunkel
2015-16                                Grey Baker
2016-17                                Edward Nolte Jr
2017-18                                Tom Matschek Jr
2018-19                                Ted Fero
2019-20                                Tim Simeck
2020-21                                Glenn Herman
2021-2021                           Glenn Herman
2022-2023                           Clint Herman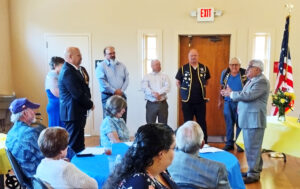 L to R: Wendy, Clint, Bob, Joe, Paul, Glenn, David